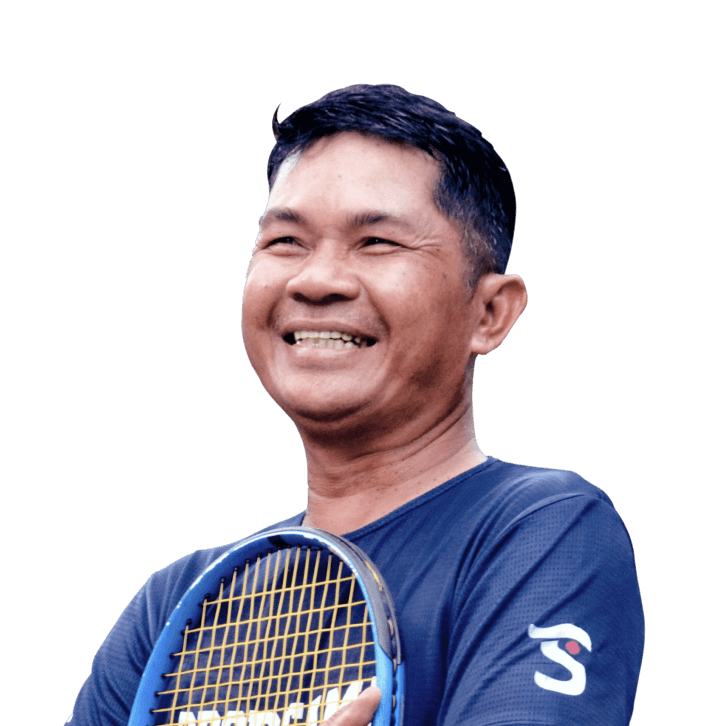 Follow
Noor Zaini
Coach
Berawal dari keluarga besar pemain tennis di Kudus Jawa Tengah -mulai belajar tennis umur 5th sampai prestasi / menjuarai berbagai kejuaraan tennis antar sekolah daerah / nasional dan pernah mengikuti berbagai kejuaraan kelompok umur ( K.U ) kejurnas dan pemain pra-PON Jateng.
Milestones
Nortec Tennis Club Bali 1991 - 2002
Nortec Tennis Club Jakarta 2002 - 2009
The American Club Jakarta 2009 - 2019
Sportama Tennis Institute 2019 - present
Achievement
Juara SD, SMP, SMA antar sekolah di Kudus Jawa Tengah 1980 - 1990
Juara KU.10th tugu muda Semarang 1981
Runner up malang open 1984
Tim popnas Jateng 1983
Runner up solo open 1985
Tim popnas Jateng 1986
Pra-PON Jateng 1998
Certification

ITF Level 1

Instruktur PELTI

Pelatih Dasar PELTI

Workshop Tennis Detec

Workshop Tennis Peter Burwash Bali
Wisma GKBI Lt. 39
Jl. Jendral Sudirman No. 28
Bendungan Hilir, Jakarta Pusat
Newsletter Signup
Sportama official communications delivered straight to your e-mail! and you'll be informed on all you need to know across the institue, tournament & more ...
Stay Connected
Copyright © 2023. Sportama Tennis. All Rights Reserved.